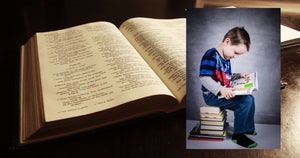 Everyone wants to know how to live their life better, get more out of it, and how to be happier. Advice about life comes in many forms, including "follow your heart," "find your bliss," "travel," "be selfless," or "make more money." Is there a way to tell what is good advice or what is a good way to live? This study is about wisdom and will help participants understand where to get good advice from, and how to identify those who give good advice.
Preview:
Length - Approximately 2 hours in a group setting
Study goals:
Identify the participants' current understanding of what wisdom is

Define wisdom as three parts using the Bible and why each part is important and necessary

Give clear guidance about where the best wisdom comes from and why we should want it

Identify how we obtain the best wisdom (Godly wisdom)

Identify the benefits of having Godly wisdom

Identify how we should behave when we have Godly wisdom

Identify how we identify those with Godly wisdom so that we can surround ourselves with good counselors instead of bad ones

Determine if there is a downside to having wisdom

Help participants understand that Godly wisdom and science need not oppose each other
Includes: General leader instructions for leading Bible studies, a specific leader guide and answer key, and a participant worksheet. All are printable PDFs and multiple copies may be printed from one download.