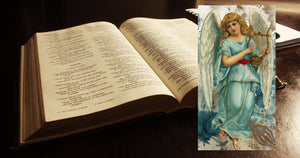 Who are the good angels? What do they look like, and how do they affect our lives today?
Preview:
Length: Approximately 2 hours in a group setting
Study goals:
Identify the different types of "angels" in the Bible

Describe the commonly thought of Angel from the Bible.

Help the participant understand that Angels are present and around us today.

Help participants recognize the power of Angels and how they work today and in the future.

Alleviate fears that Christians should fear Angels or that Angels would turn against them.

Identify how we should interact with Angels
Includes: General leader instructions for leading Bible studies, a specific leader guide and answer key, and a participant worksheet. All are printable PDFs and multiple copies may be printed from one download.