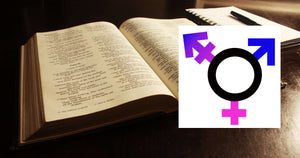 What is the best way to engage someone who belongs to the LGBTQ+ community? Is it really loving to affirm, praise, and celebrate their lifestyle? What does the Bible say? What does evolution (a world without God) say about encouraging their behavior?
Preview:
Length: Approximately 3 hours in a group setting
Study Goals:
Identify what "LGBTQ+" is

Help participants understand where LGBTQ+ tendencies and beliefs come from

Identify whether or not evolution supports LGBTQ+ behavior as natural and should continue to occur (In other words, answer the question, "Does even a world without God support LGBTQ+ behavior?")

Compare LGBTQ+ ideology to evolution principles and Biblical principals

Help participants better interact with persons with LGBTQ+ behavioral tendencies
Includes: General leader instructions for leading Bible studies, a specific leader guide and answer key, and a participant worksheet. All are printable PDFs and multiple copies may be printed from one download.