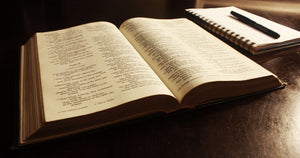 The Bible is a big book, but what is it really about? How can we understand it?

Preview:
Length: Approximately 2 hours in a group setting
Study goals:
Identify the participants' struggles with reading and understanding the Bible

Identify what portions of the Bible we should read and why

Identify several important reasons for reading the Bible and why

Identify how we can and do understand the Bible

Provide the basic means to understand and rightly interpret the Bible

Provide an answer for why people have different conclusions and why we should not be quick to assume whatever we believe is correct
Includes: General leader instructions for leading Bible studies, a specific leader guide and answer key, and a participant worksheet. All are printable PDFs and multiple copies may be printed from one download.