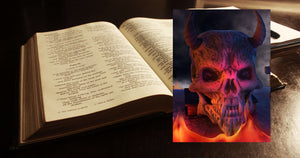 Satan and demons are just a myth that makes a good movie villain... or are they? What does the Bible say about these creatures and their effects on our lives today?
Preview:
Length: Approximately 2-3 hours in a group setting
Study Goals:
Identify how the world understands the presence of demons (i.e., supernatural evil)

Identify the participants' current perspective on demons and the effect they have today

Help participants identify the names and types of some of the demons

Compare biblical descriptions of Satan and demons to the world's depiction of them

Help participants recognize demonic attacks, demonic possession, and the power of demons

Help participants understand the purpose behind demonic attacks

Establish Biblical principles for dealing with demonic possession
Includes: General leader instructions for leading Bible studies, a specific leader guide and answer key, and a participant worksheet. All are printable PDFs and multiple copies may be printed from one download.