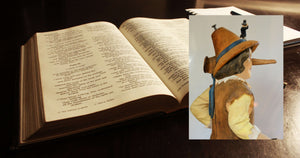 Are all lies really sinful? Is telling the truth always God-pleasing? What about those who lied to protect the Jews from the Nazis? Or how about tattle tales?

Preview:
Length: Approximately 2 hours in a group setting
Study goals:
Identify participants' current views on lying

Help participants understand that telling the truth or lying is not always black and white.

Identify what the Eighth Commandment actually says.

Define God's attitude towards lies and lying in general.

Identify the difference between lying and concealing the truth.

Help participants understand that in very rare instances, God is pleased with lying by walking through God's response to the lies of Rahab and the Egyptian Midwives.

Use the new understanding through the examples of Rahab and the Midwives to help participants know how to be righteous witnesses and not allow the wicked to use the truth to pervert justice.

Release those who have lied in a God-pleasing way from guilt and feelings of shame.
Includes: General leader instructions for leading Bible studies, a specific leader guide and answer key, and a participant worksheet. All are printable PDFs and multiple copies may be printed from one download.